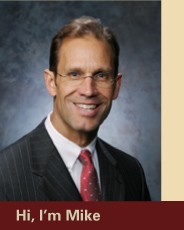 Welcome!

I'd like to personally welcome you to MikeShumway.com.  My hope is that you find information on this site to help you to dream of a brighter financial future, plan, and move forward with greater confidence.  The opportunities and potential rewards can potentially be great, when you take a proactive approach to your personal financial situation.

Dream, Plan, and Move Forward with More Confidence.
This website was created to help you gain a better understanding of the financial concepts behind insurance, investing, retirement, estate planning, and wealth preservation.  Here, you'll find a collection of newsletter articles, calculators, and research reports that will help you take proactive steps toward your goals.

While this site offers great information, nothing beats working along side a skilled professional in pursuit of your financial goals.  That's where I come in.  I'm here to be your best resource about basic concepts of financial management, give you fast, easy access to market performance data, while helping you chart a course that fits your goals and dreams.

Once again, thank you for visiting MikeShumway.com!  Please take advantage of this resource and visit often. 

Sincerely,
Mike Shumway

Be sure to add this site to your list of "favorites" in your internet browser!
2020's market volatility combined with holding stock in different-sized companies might help you diversify your equity portfolio at a discount.

This article looks at the "new normal," its effect on consumer behavior and the retail industry, and what that could mean for the economy.

This article outlines the basic provisions of income-driven repayment plans that can help reduce the burden of federal student loans.

Small-business owners may need to think on their feet and visualize what a recovery might look like for their operations post COVID-19.
Estimate the future value of your current savings.

Estimate of the maximum amount of financing you can expect to get when you begin house hunting.

Determine whether you should consider refinancing your mortgage.

Compare the potential future value of tax-deferred investments to that of taxable investments.