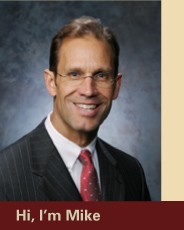 Welcome!

I'd like to personally welcome you to MikeShumway.com.  My hope is that you find information on this site to help you to dream of a brighter financial future, plan, and move forward with greater confidence.  The opportunities and potential rewards can potentially be great, when you take a proactive approach to your personal financial situation.

Dream, Plan, and Move Forward with More Confidence.
This website was created to help you gain a better understanding of the financial concepts behind insurance, investing, retirement, estate planning, and wealth preservation.  Here, you'll find a collection of newsletter articles, calculators, and research reports that will help you take proactive steps toward your goals.

While this site offers great information, nothing beats working along side a skilled professional in pursuit of your financial goals.  That's where I come in.  I'm here to be your best resource about basic concepts of financial management, give you fast, easy access to market performance data, while helping you chart a course that fits your goals and dreams.

Once again, thank you for visiting MikeShumway.com!  Please take advantage of this resource and visit often. 

Sincerely,
Mike Shumway

Be sure to add this site to your list of "favorites" in your internet browser!
Financing a college education with minimal debt requires planning, saving, financial aid knowledge, research, and sound decision-making.

High earner, not rich yet (HENRY) refers to young professionals with big incomes and little savings. Find out how HENRYs might grow wealth.

This article looks at the strategy behind the Fed's monetary policy shift and the potential consequences for consumers, investors, and the economy.

Find out why catalytic converters are targeted by thieves and how comprehensive auto insurance can help provide some financial protection.
Use this calculator to estimate the cost of your child's education, based on the variables you input.

Use this calculator to determine whether you qualify for the different types of IRAs.

Estimate of the maximum amount of financing you can expect to get when you begin house hunting.

How much do you need to save each year to meet your long-term financial goals?