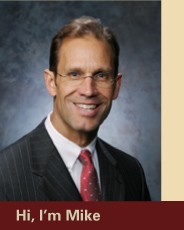 Welcome!

I'd like to personally welcome you to MikeShumway.com.  My hope is that you find information on this site to help you to dream of a brighter financial future, plan, and move forward with greater confidence.  The opportunities and potential rewards can potentially be great, when you take a proactive approach to your personal financial situation.

Dream, Plan, and Move Forward with More Confidence.
This website was created to help you gain a better understanding of the financial concepts behind insurance, investing, retirement, estate planning, and wealth preservation.  Here, you'll find a collection of newsletter articles, calculators, and research reports that will help you take proactive steps toward your goals.

While this site offers great information, nothing beats working along side a skilled professional in pursuit of your financial goals.  That's where I come in.  I'm here to be your best resource about basic concepts of financial management, give you fast, easy access to market performance data, while helping you chart a course that fits your goals and dreams.

Once again, thank you for visiting MikeShumway.com!  Please take advantage of this resource and visit often. 

Sincerely,
Mike Shumway

Be sure to add this site to your list of "favorites" in your internet browser!
One way to help protect a bond portfolio from a potential spike in inflation is by investing in Treasury inflation-protected securities.

A look at some of the factors behind the recent market volatility and why investors should focus on long-term goals.

Investors should understand basic terms and types of trades, like bid and ask prices, market order and limit order.

With interest rates expected to keep rising here is a short quiz to test one's interest rate knowledge.
Use this calculator to estimate the cost of your child's education, based on the variables you input.

A balance sheet summarizes your assets and liabilities and reveals your net worth.

This Cash Flow Analysis form will help you weigh your income vs. your expenses.

How much life insurance would you need to produce a sufficient income stream for your family?